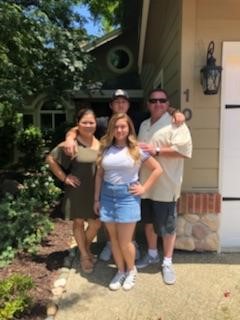 Then one day everything changed on a dime.

The owner of the company came into the lab unexpectedly and said, "Hey Terence, I need to talk to you."

When we got to his office, he told me, "We have to let you go today." They were going in a different direction.

I was completely shocked and totally disappointed. I didn't see it coming at all. For the first time in my adult life, I found myself without a plan.

To add a lot of stress to my confusion, my son Lucas was just one week old at the time, and we had bought a home in the Bay Area about a year and a half before! My wife was still on maternity leave, so she wasn't working, either. Talk about pressure!

I was lost and confused, so I asked my wife, "what are we going to do?"

Then she told me, "I think you would be a really great realtor." I immediately knew that was it!

One reason I really wanted to get into real estate was the experience we had buying our own home. Our agent pulled a fast one and told us the sellers had repaired the damaged oak hardwood floors in the transfer disclosure statement. Instead, they just put down plywood and placed a piece of furniture over it. We didn't realize it until they moved out and it was already too late.

That experience changed my whole perspective on real estate. So, when my wife brought it up, I decided to go for it, because I knew that I could do better and treat people right. I wanted to make sure that no one experienced the same thing we did.